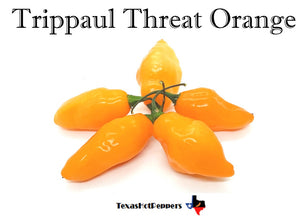 Trippaul Threat Orange - 10 Seeds
The Trippaul Threat series (Created by Paul G) has many different phenotypes/colors.  This is an orange pheno that is EXTREMELY high yielding. Plants are medium dark (this is a cross between Pimente De Neyde and Bonda Ma Jacques) with pods that ripen to a bright orange. Very fruity and heat level is about habanero level.
This pheno is not stable, color/shape/heat level may vary.