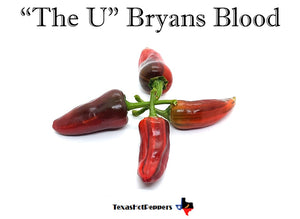 The U Bryans Blood - 10 Seeds
This is a selection from Bryan's Blood with stripes on pods that are both dark orange and red. The Bryan's Blood is a variegated cross between Poblano and Scarletts Chile developed by Eric Knight.  Medium heat, high yielding.
25% of sales of Eric Knights crosses will be donated to the Disabled American Veterans fund.