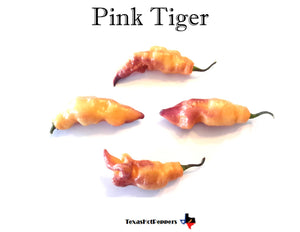 Pink Tiger - 8 Seeds
Incredible looking pods, this is one of the first multicolor superhots in existence.  This was bred by Italian growers by crossing a Pimente De Neyde with a Bhut Jolokia.  Dark purple foliage with purple pods that ripen to a peach mottled with different shades of purple.  Very hot, close to the original Ghost pepper.  This is not completely stable but getting closer.  Color/shape may vary.
Back in stock, limited quantities!