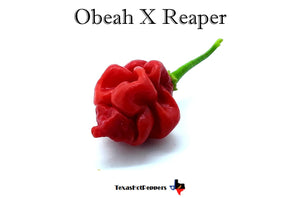 Obeah X Reaper - 8 Seeds
Some of the coolest/unique pods you'll see. Pods are very wrinkly/ridged.  The pods are similar size to a reaper but don't have the pimply skin.  They are very hot but not near Reaper heat.  Filial generation is unknown, therefore color/shape may vary.
Extremely limited supply - therefore offering 6 seeds p/pack.  If you want to try order now as this will sell out quickly.