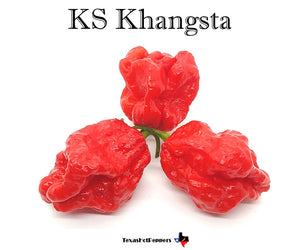 KS Khangsta - 10 Seeds
Another very nice variety created by Khang Starr.  This is an MOA Scotch Bonnet crossed with a  Brazilian Ghost Red.  You can see both parents genetics evident in this pheno.  We believe this is at an F4 generation, shape/color may vary.
Please note that this variety is a slow germinator. In a recent germination test this was the last to germinate out of 72 different varieties (First sprout came up at 17 days, followed closely by the rest). This one requires a little extra patience!