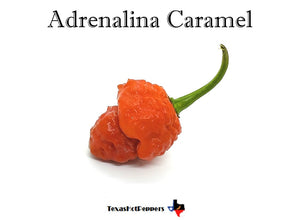 Adrenalina Caramel - 8 Seeds
The original Adrenalina is a cross between Red Shark and 7 Pot BBG7 Red.  This cross seems to have spawned a ton of different colors and shapes.  This particular strain has come true for 2 straight generations for us, its at leas F4 generation.
Pods are bumpy and extremely hot.  Foliage is a dark green with purple veins. 
Still unstable, color/shape/heat may vary.