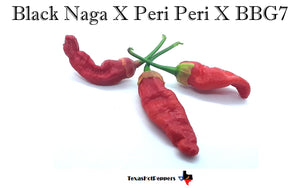 Black Naga X Peri Peri X BBG7 - 8 Seeds
Exclusive cross found only at Texas Hot Peppers.  This is a Black Naga X Peri Peri that was then crossed with a BBG7.  This is one of the thinner/longer BBG7 crosses you will find, you can definitely see traits of all 3 of these varieties here.  This is an unstable but unique variety.  Color/Shape etc will likely vary.  
Extremely limited seed supply.