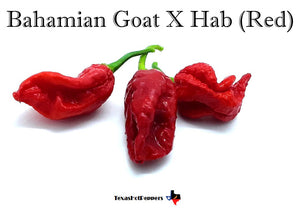 Bahamian Goat X Hab (Red) - 10 Seeds
Interesting variety, this one was hotter than expected.  Pods are a bit wrinkled and ripen to a cherry red, and seemingly hotter than both Bahamian Goat and Habanero.  Flavor is good, a bit fruity.  Plants are high yielding.
If interested also see the Bahamian Goat X Hab (Coral) which is another phenotype I got from this cross.
This variety is unstable, color/shape/flavor may vary.
Check back July 2023 for new stock of this variety.